Ways to Give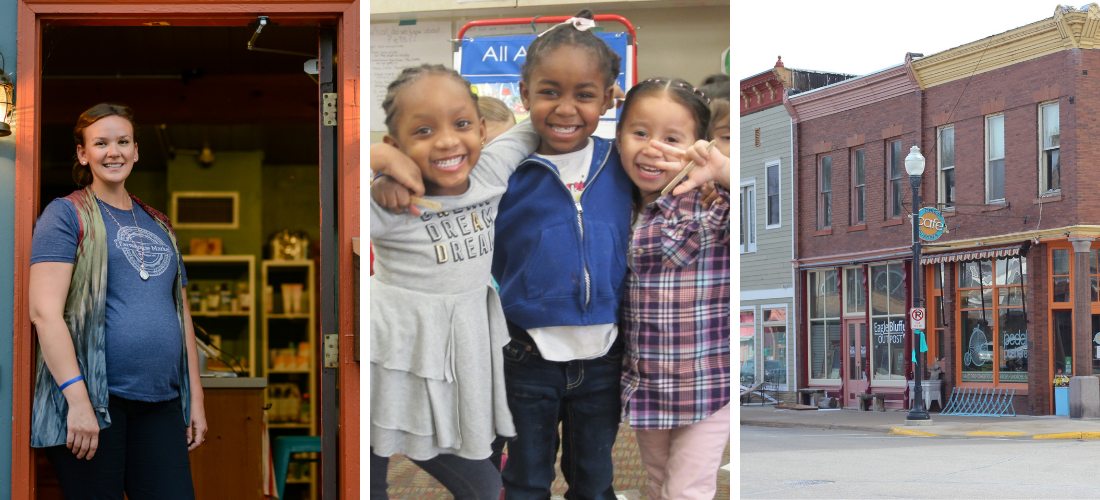 Donors choose how they want to make a difference
Southern Minnesota Initiative Foundation relies on donations from individuals, businesses and other charitable organizations to create stronger, more vibrant southern Minnesota communities. For every $1 raised locally, we invest over $10 back in communities across our 20-county region to support small businesses, help prepare kids for kindgerarten and empower community leaders to work for change in their communities.
As a public foundation, SMIF is a non-profit 501(c)3 tax exempt corporation; all donations are tax deductible. To give or to discuss giving opportunities call, Jennifer Nelson at 507.214-7025 or jennifern@smifoundation.org. Contributions can be sent to 525 Florence Ave., Owatonna MN 55060.
Download our Ways to Give brochure to learn more. 
Learn more about our Love Where You Live Campaign!
We're happy to help you align your values with a charitable gift. Some options include:
ENDOWED FUNDS
General Endowment - Supports SMIF's overall vision of growing vibrant communities, successful economies and engaged and valued citizens
Youth Trust Fund - We know investing in our youth provides substantial returns for the future of our region. Contributions support a better start for our future leaders.
Entrepreneur Fund - Small businesses are the backbone of our economy. Contributions support entrepreneurs and the systems needed to encourage success.
Sponsorships - Consider sponsoring one of our events that supports vitality in the region, including our Early Childhood Care Conference, Entrepreneurial Bridge Conference, FEAST! Local Foods Marketplace, and more.
Donor Partnerships - Businesses find partnership programs creative, practical, and rewarding. We provide organization; donors provide in-kind goods or funds.
Gifts in honor or memory of others - Colleagues, family members, friends, and special occasions can be honored with a gift that lives on and expresses both appreciation and shared commitments.
Farmland Retention - SMIF's Preserving Our Heritage program provides a means of giving that preserves one of the greatest natural assets of southern Minnesota: farmland. Farmland retention represents an opportunity for rural philanthropy.
Planned Giving - Consider investing in southern Minnesota by providing a planned gift to support SMIF's mission of fostering economic and community vitality.
Affiliate Funds - SMIF believes that helping to promote community philanthropy is important to growing a vital, healthy region. SMIF provides the legal infrastructure to a community foundation and/or designated fund to operate as a charitable vehicle. Funds are managed and invested by SMIF and are restricted for use in the local community or focus area.
For more information about ways to give, contact Jennifer Nelson at 507-214-7025 or jennifern@smifoundation.org.